Eastside Alumni: Where Are They Now?
.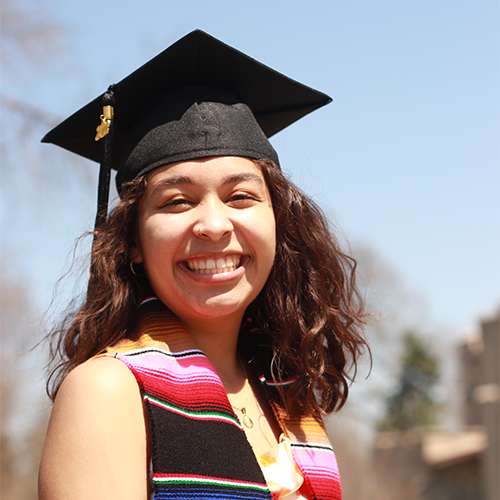 Clarissa Guzman: Eastside Class of 2018, Carleton College Class of 2022
After graduating from Eastside, Clarissa moved to Minnesota to begin her college journey at Carleton, where she pursued a major in anthropology & sociology and a minor in educational studies. In addition to a busy academic schedule, Clarissa mentored middle schoolers, served as a peer leader through the TRIO Student Services Support Program, and disseminated voter information as part of Carleton's Peace, Conflict, and Democracy Cohort. She also secured two summer internships through Eastside's network, working with Catholic Charities and Bay Area Legal Aid, and one on her own at Growing Up Healthy. Following her graduation, Clarissa was awarded a Weitz Fellowship, an opportunity for recent Carleton graduates to be matched with a one-year, paid position at a nonprofit organization. Clarissa is now pursuing her passion for social justice and community organizing at Nebraska Appleseed, an organization focused on health care access, immigrant support, economic equity, and child welfare.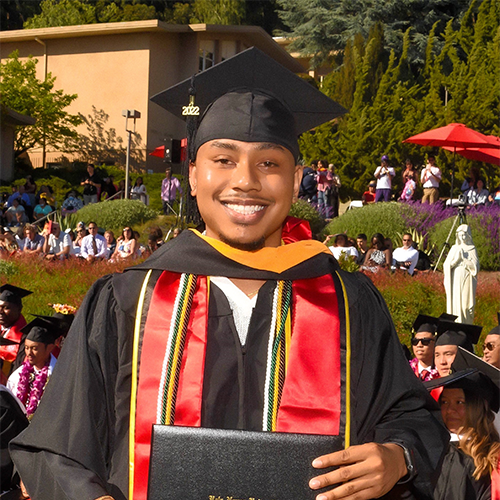 Diamond Allen: Eastside Class of 2018, Holy Names University Class of 2022
Over the years, Diamond has established himself as a young professional, while also focusing on supporting his family and giving back to his community. While pursuing his degree in business administration, Diamond provided extensive care and guidance to his younger siblings. He also worked as a lead camp counselor for Acta Non Verba (an urban farming program that serves low-income children in Oakland), as a retail sales consultant at AT&T, and as a consultation agent at Geek Squad. Then, the summer after his junior year, Diamond's career coach helped him secure a summer internship at DocuSign, which was extended throughout his senior year and led to a full-time offer as a solution engineer.
Alberto Diaz: Eastside Class of 2017, UCLA Class of 2022
While earning his degree in computer science and engineering, Alberto worked as a technician at the UCLA Computer Store and was active in the Society of Latino Engineers and Scientists (SOLES). In the summer of 2020, he worked with his Eastside career coach to secure a software engineering internship at Juniper Networks, where he made such a positive impression that he was invited back for the summer of 2021. His manager shared that he was extremely pleased with Alberto's proactivity, problem-solving, and communication skills, and this summer, Alberto was thrilled to begin a full-time position as software engineer at Juniper Networks.
Shiru Kimani: Eastside Class of 2018, St. Lawrence University Class of 2022
With a combined major in international economics and multi-language, Shiru is passionate about economic empowerment, poverty alleviation, and international development. During her time at St. Lawrence, she co-founded the Avaya SELP group, which focuses on uplifting Maasai communities in East Africa; volunteered at the Campus Kitchens Project; and participated in the McNair Scholars Program, which gave her the opportunity to attend over 30 professional conferences. She also studied abroad in France, interned at JP Morgan and at Cargill, and worked several on-campus jobs before graduating magna cum laude a semester early. This year, she is beginning her Master of Global Policy Studies, with a focus on international development, at the University of Texas-Austin. Shiru is also a recipient of the Thomas R. Pickering Foreign Affairs Graduate Fellowship, which provides fellows with the opportunity to work as Foreign Service Officers after completing their master's degrees.
And pursuing business school:
Carina Bustos: Eastside Class of 2011, Occidental College Class of 2015, now entering the University of Michigan's Ross School of Business
After graduating from Eastside, Carina earned her BA from Occidental College with a major in critical theory and social justice. During her summers as a college student and recent graduate, she interned at the California Public Utilities Commission, the San Francisco District Attorney Office, Strategic Action for a Just Economy (SAJE), the Renaissance Entrepreneurship Center, and the Anita Borg Institute for Women and Technology. Her internship with Anita Borg turned into a full-time job as business development account manager, and she was later promoted to business development operations manager. In 2018, she began working for Charles Schwab, first as an associate financial consultant and then as a corporate financial consultant. Now, Carina is taking the next step in her career by starting her MBA at the University of Michigan's Ross School of Business. She is excited to focus on improving access to generational wealth-building opportunities, and on encouraging other students of color to consider following in her footsteps and applying to business school.